End-to-End Smart Card Management System
CARD MANAGEMENT SOLUTIONS BY ANMSOFT
End-to-End Smart Card Management System
CARD MANAGEMENT SOLUTIONS BY ANMSOFT
Credit, Debit & Smart Card Management Software
CREDIT, DEBIT & SMART CARD MANAGEMENT SYSTEM
ANMsoft has significant knowledge and expertise in the development, implementation and integration of Debit / credit and Smart card systems. ANMsoft card management solution provides multi-currency / product and language platform to issuers to manage card life cycles, including all types of cards, namely credit, debit or prepaid cards.
ANMsoft's Card Management & Processing solutions includes a comprehensive suite of production-proven software systems and services that provide diverse financial institutions with the secure, reliable, end-to-end transaction processing platform required to meet cardholder expectations and to successfully compete in today's highly competitive financial services industry. The flexible and scalable platform also enables Card Processing Solutions to seamlessly support each financial institution's unique operating environment, evolving e-commerce strategy, and constantly evolving cardholder and market demands. Card Technology supported is Visa, MasterCard & Private Labels.
ANMsoft can implement, assist & support through all the phases of card cycle right from defining basic card types to settlements.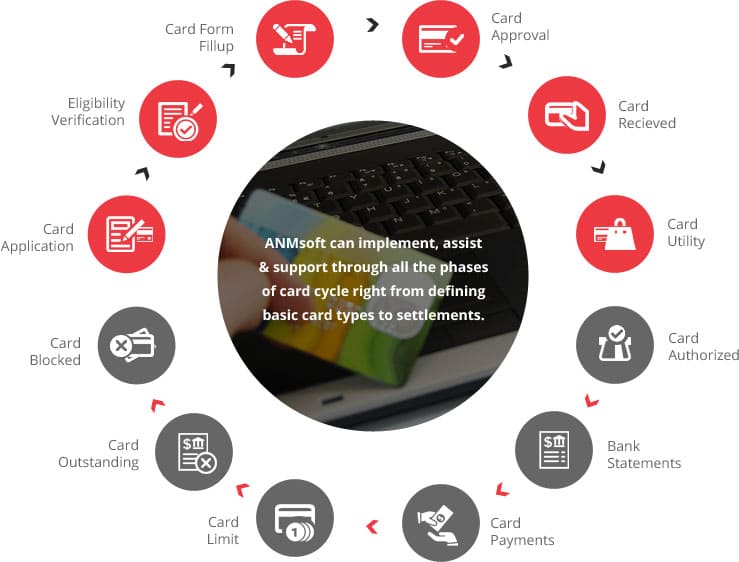 Some key benefits of using ANMsoft's Card Management Services are: