Travel Agency Back Office Accounting Systems
USE WEB BASED BACK OFFICE OPERATION SYSTEM WITH ONLINE & OFFLINE SYNCHRONIZATION
Travel Agency Back Office Accounting Systems
USE WEB BASED BACK OFFICE OPERATION SYSTEM WITH ONLINE & OFFLINE SYNCHRONIZATION
With almost 75% of bookings done online and a dynamic & ever evolving travel market, it has become really important to have a robust, simple & mature back-office solution that makes day-to-day operations efficient. Needless to say, accounting and financial processes forms the backbone of any organization and a comprehensive accounting software package is vital to accelerate, improve, and streamline accounting related tasks of the organization.
ANMsoft's Accounting back office solution (IATA Agents, Non-IATA Agents, and GSA Agents & Tour Operators) is widely used and is a vital tool that enables travel agents to carry out back office operations like accounting, billing, payable, reconciling & settling, receivables tracking & processing, and expenses & recovery monitoring.
The robust core engine provides you with security & role based access rights and allows you to establish business rules like cu'stomers, vendor, taxes, and incentives related policies.
Manage your travel agency invoicing and payments to suppliers & vendors easily
Salient Features of OnTra Accounting includes
OnTra Accounting Report Lists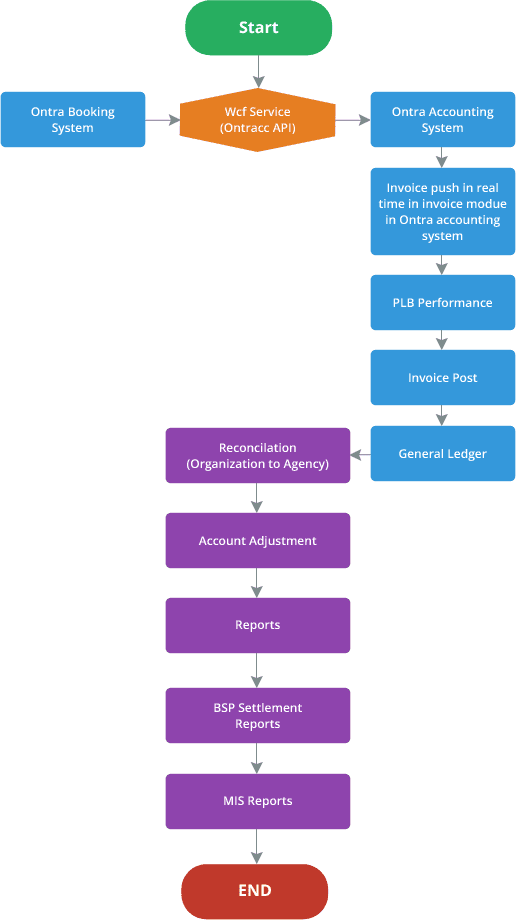 System Flow- Offline Flow